J. D. Levesque and some of his children have created and managed several companies, the best known of which are Levesque Lumber and Levesque Plywood.

Levesque Lumber

Before moving to the region, Joseph-David Levesque (known as "J. D.") had previously owned sawmills in Abitibi, more specifically in Kenojavis in the 1930s and at Lac Bousquet in the 1940s.

J. D. Levesque arrived in the region in 1947. He first acquired Raoul Létourneau's planer the same year and, in 1948, he purchased Willie Létourneau's sawmill located near the Kabina River, about 40 kilometers west of Hearst. The mill burned down, but J. D. quickly rebuilt it. At the time, J. D. Levesque is the holder of logging rights in private townships belonging to Transcontinental Timber.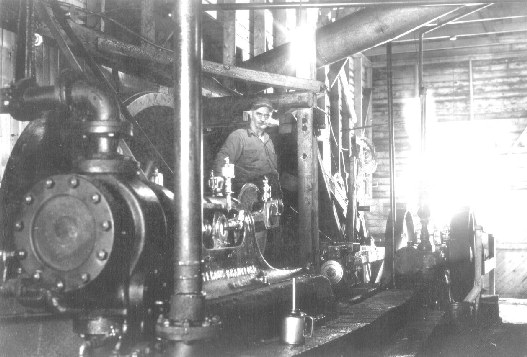 Kabina River mill steam engine, early 1950s
(Town of Hearst collection; picture donated by Mrs. Rita Lecours)

In the early 1950s, J. D. Levesque reached an agreement with Arrow Timber to obtain logging rights in the Studholme and Irish Townships and to strip the bark off of pulpwood. To accomplish this latter task, he built a drum barker at Wyborn, near the Algoma railroad.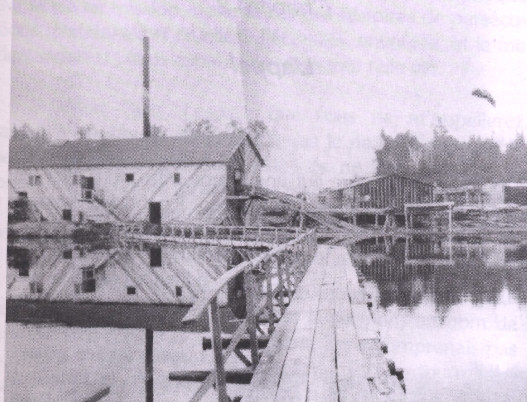 The Kabina River mill site had several docks above the water, early 1950s
(picture donated by Mrs. Rita Lecours)
In 1953, J. D. Levesque obtained a licence to log on Crown lands in the Ritchie Township, 40 kilometers north of Hearst, and installed a steam-powered sawmill there. He handed down operations of the Kabina River mill to his son Réal, who received the help of his brother Yvon.
In the 1950s, both of J. D. Levesque's sawmills had a total annual production of about 15 million feet of wood. Lumber from the mills was transported by truck to the Hearst planer.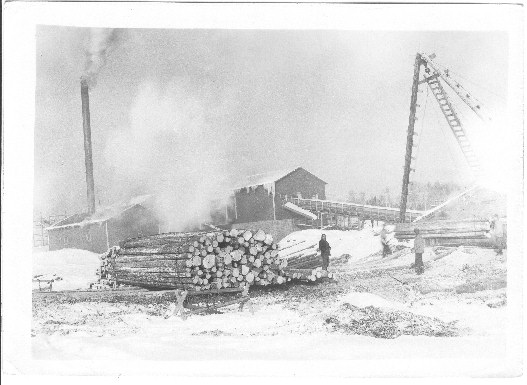 J. D. Levesque's Ritchie sawmill, December 1960
(Écomusée de Hearst et de la région collection;
picture donated by Mrs. Rita Lecours)

In 1963, Mr. Levesque inaugurated a new, electrically powered sawmill in Hearst which included a chipper to make wood chips. He shut down the Ritchie sawmill while his son Réal did the same with the Kabina River mill. Réal remained involved in logging operations with his Hearst Transport and Lumber company. Beginning in 1962, Réal and J. D. Levesque shared the cost of building the Caithness road, which led to the Caithness Township, where they managed to obtain logging rights from Transcontinental Timber. In 1964, Liliane, Lise and Rita Levesque, J. D.'s daughters, became owners of the planer.

In 1969 the Hearst Transport and Lumber company, owned by Réal Levesque, bought out Mattice Lumber along with all its equipment and machinery. Mattice Lumber had up to this time belonged to Napoléon, Antoinette and Maurice Gagnon of Mattice. With the approval of the Department of Lands and Forests, Hearst Transport and Lumber thus obtained access to logging lands that belonged to Mattice Lumber, located north of Mattice.

In the early 70s, J. D. Levesque retired from Levesque Lumber and handed the reins of the company to four of his sons, namely Réal, André, Rosaire and Ronald.

In 1974, Levesque Lumber purchased logging lands belonging to Spruce Dale Lumber, owned by the Christianson family of Mattice. The following year, Levesque Lumber rebuilt a more modern sawmill in Hearst and, in 1978, installed a new planer.

Levesque Lumber employed upwards of 400 workers before its closure in 1992 following financial difficulties. The planer was then purchased by a group of employees, private investors and partners of the Isabelle sawmill of Opasatika. The planer operated under the name Tricept until 2006.

Levesque Plywood

Having been involved in the lumber industry for several years, Yvon Levesque took an interest, in the late 50s, in the establishment of a plywood factory that would permit a commercial use of aspen.

"It was an idea originating in my youth, anchored in my mind by my father: the maximum use of raw materials. Conifers were used to their full potential. There remained a bunch of aspen and birch which people cursed because it made road building more difficult. These trees had no use" (Excerpt from an interview with Yvon Levesque, Le Nord, September 1, 1976).

In 1960, Yvon and his brother Hervé created the Levesque Plywood Company and planed the construction of a factory. The factory was operational in 1962, with more than 50 employees working to produce 4' by 4' siding boards. The factory used between 10,000 and 12,000 cords of wood to generate an annual production of between 15 and 18 million square feet of plywood (Levesque Plywood Ltd, page 1).


Hervé Levesque
(picture donated by
Mrs. Rita Lecours)

Yvon Levesque
(picture donated by
Mrs. Lynn Levesque)
In 1963, the company acquired new equipment to make industrial strength plywood for the housing industry. The number of employees increased to 75.
In 1964, the company again broadened its production to make 4' by 8' boards, increasing its payroll to 125 people. Shortly after this development, the factory, valued at over $2 million, was destroyed by a fire on May 17, 1965.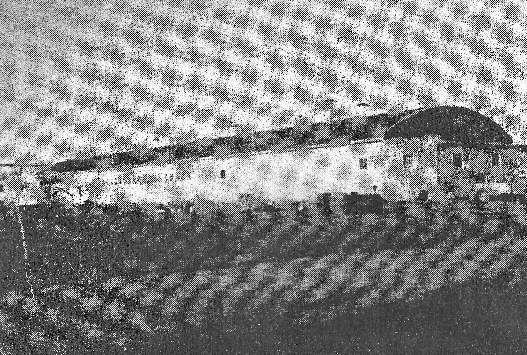 Levesque Plywood's first plywood factory,
its construction began on January 3, 1962
(picture from the Le Nord newspaper, September 1, 1976 edition)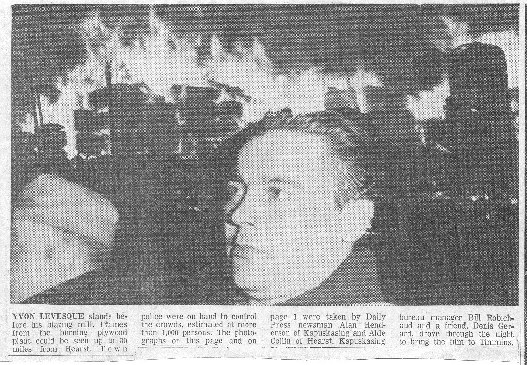 Blaze at the Levesque Plywood factory, on May 17, 1965
(picture from the Timmins Daily Press, May 18, 1965 edition)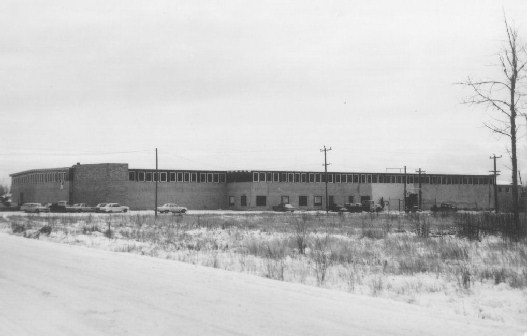 Levesque Plywood factory, after its reconstruction
(Town of Hearst collection; picture donated by Mr. Denis Robinson)

A new factory was built and production restarted in the spring of 1966 with 157 employees, including 49 women. The adoption of the 40 hour week on April 1, 1969, increased the number of employees to 213, including 60 women.

After commissioning a feasibility study Yvon and Hervé Levesque undertook, in 1969 and 1970, the construction of a "presswood" factory valued at more than $3 million.

"The basic idea behind the project is once again maximum utilization of raw materials. Sawmills produce sawdust and planers produce residues that have no commercial value and which we send to burners" (Excerpt from an interview with Yvon Levesque, Le Nord, September 1, 1976).

These by-products were used in the manufacturing of boards, which were put on the market beginning in August 1970. They were primarily used in the construction of furniture. The factory was then the most important of its kind in Canada, accounting for 30 percent of the national production of presswood (Levesque Plywood Ltd, page 3). By then, Levesque Plywood employed more than 250 people. The company experienced further expansion in the late 80s when it built the particleboard factory.

Levesque Plywood was sold to Columbia Forest Products, a company based in Portland, Oregon, in 1995.