By the time Ernest Gosselin moved to the Hearst region in 1942, he had already had experience in the lumber industry, having owned sawmills in La Sarre and Normétal.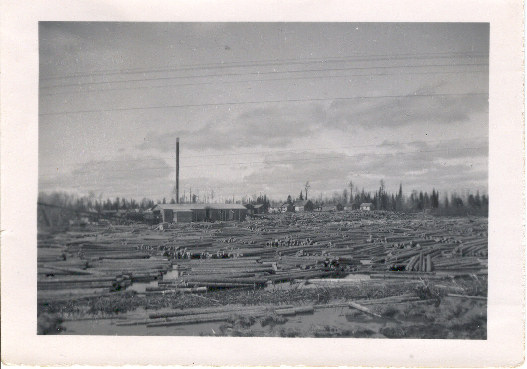 Gosselin's sawmill in Carey Lake
(Écomusée de Hearst et de la région collection;
picture donated by Mrs. Rachel Catellier)

In 1944 he purchased Arthur Lecours' Carey Lake sawmill. Initially designed to run on steam, Mr. Gosselin converted the mill to use diesel fuel a few years after the purchase. Several of his children worked in the Carey Lake mill and, in the late 1940s, the business is sold to Réal, Marcel, Rosaire and Georges ("Ti-Bi") Gosselin, who start the Gosselin Brothers company.

The Carey Lake sawmill was moved closer to the company's logging grounds, close to Stoddart Lake, in the township with the same name, on Fushimi road. Since the company did not operate a planer, the lumber produced by the sawmill was transported to Hearst to be planed at the Henry Selin company's planer.

In the late 1950s, the Gosselin brothers installed a new sawmill in Calstock after the Ministry of Natural Resources granted them logging rights on Roger's access road, north of Calstock. However, they had their timber sawed by Lecours Lumber Co. Ltd. before they built a new sawmill in 1963.


From left to right:
Réal, Georges, Alfred and Ernest Gosselin
(picture donated by Mrs. Dolorès Gosselin)

In the mid-1960s, the company was incorporated under the name Gosselin Lumber. The three owning partners of the company were Réal, Marcel and Georges Gosselin.

A new mill was built in Calstock in 1969. It operated a ribbon saw which allowed an increase in production up to 20 million feet of wood per year. In 1972 the company installed a dry kiln. During its peak years, the company employed more than a hundred people.

In 1982 the Gosselin brothers sold Gosselin Lumber and its logging rights of 40,000 cords to Lecours Lumber Co. Ltd. for $3.5 million. Réal and Marcel subsequently created the Manupan Company, a factory that made birch boards. The company was operative for a few years.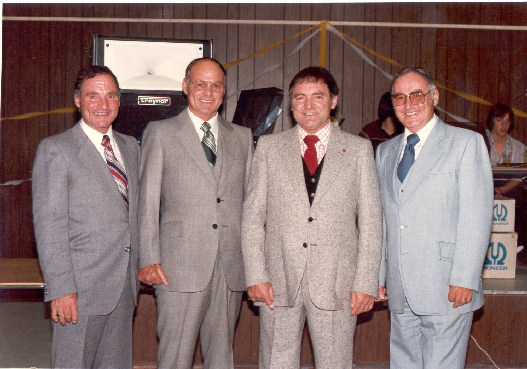 From left to right: Georges (Ti-Bi), Marcel, Rosaire and Réal Gosselin
(picture donated by Mrs. Rachel Catellier)
Réal and Georges Gosselin were also active in the domain of aviation. Furthermore, Georges remained active in the forest industry as an entrepreneur until 2005.