We present here a list of sawmills that have existed in the region and that are not associated with the four principal families discussed previously. We present them in chronological order, according to the date of their foundation.

It must be noted that this list is not exhaustive. Several sources were consulted to obtain this information; yet the following list probably remains incomplete.
MacEachern, McMiphen (or McMechen), McNeil and Pellow sawmills: little is known about these mills located in Hazel (Wyborn). Mr. Charles Duguay arrived in Wyborn in 1915 and worked at Mr. McMechen's mill (Mr. McMechen's first name might have been Georges). This sawmill was on the Mattawishkwia River shores. In an interview with the Le Nord newspaper in 1990, Georges Dillon mentions that Huey McNeal (or McNeil) had built two sawmills: one "stud mill" where 9-foot lumber was made and one regular sawmill. The first was located near the railroad and the other near the McMechen mill.
Simmons sawmill: located in McManusville (St-Pie-X), this sawmill was run in the early 20s solely by its owner, Mr. Simmons (first name unknown).
Huard sawmill: in 1923, Alphonse Huard built a sawmill near his house in the Kendall Township (third concession), mill which he had shipped by train from Plessiville, Québec. He sawed settlers' timber with the help of his sons.
Poliquin sawmill: Achilles Poliquin installed this sawmill in 1924 in concessions six and seven near Halléwood (Hallébourg), on Kendall creek shores. He operated the mill himself with the help of his sons to supply settlers with lumber. In 1929 the mill was acquired by Alfred Fortier and closed a few years later (La Défriche, 1974 : 50).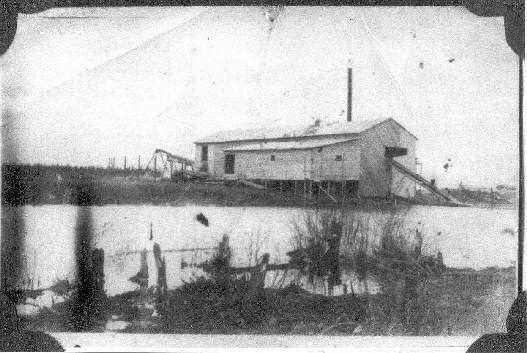 Poliquin sawmill in Halléwood (Hallébourg)
(picture donated by Mr. Raymond Brochu)

Doucet sawmill: around 1924, until the 30s, Alfred (Joseph) Doucet operated a sawmill in Stavert (Jogues) with the help of his sons. The mill was located near the railroad. Father Zoël Lambert told the Le Nord newspaper that trees were rafted on a nearby stream to supply the mill with timber. The mill was sold to Adélard Haman in the 1930s.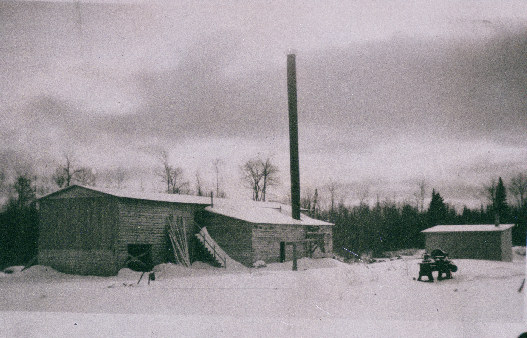 Doucet sawmill in Jogues
(Société historique collection; picture donated by the Hearst Bishopric)

Veilleux Brothers sawmill: around 1930, four Veilleux brothers (Georges, Alphonse, Stanislas and Philippe) built a sawmill at Pivabiska Lake to provide settlers with lumber. Timber for the mill came from their land and also from their other brother Godfroy's land. The sawmill was destroyed by a fire in 1935 and was never rebuilt. One of the brothers, Alphonse, salvaged the equipment and installed a new mill on his property.
Joseph Buteau sawmill: Starting in 1924, Joseph Buteau and his sons Gédéon and Philippe operated a portable sawmill on lot 24, concession four of Eilber Township. The mill was moved to Shallow Lake, and later to the tenth concession east of Missinaïbi River and, finally, on the river's shores near lot 27 of Eilber Township's third concession (Si Missinaïbi m'était contée…Tome 1, 1986 : 82).
Philippe Buteau sawmill: In the 1940s, Philippe Buteau operated a sawmill near the Nagagami River for the Marathon Paper Mills company. He moved the mill to Hornepayne. Philippe Buteau also built sawmills for other people.
Dupuis sawmill: in 1924, Cléophas Dupuis installed a sawmill on Missinaïbi River shores in Mattice (on the south side of the bridge). Mr. Dupuis previously operated the sawmill in Sainte.Lucie, Québec, and transported it by train to Mattice. His brother Bernard and his sons Albert and Armand helped him in his endeavour. After their father's death in 1939, Albert and Armand took charge of the mill and created Dupuis Lumber. They moved the sawmill to Shallow Lake. In 1945, Albert became the company's sole owner and moved the operations back to Mattice and attempted to increase sales. In 1949, he moved the mill to the Nagagami River where he and his son Emmanuel processed Marathon Paper Mills' timber. After one winter, Albert Dupuis brought the sawmill back to Mattice. He processed timber from contractors like Pierre-Paul Vaillancourt and wood he obtained from permits granted by settlers. Having failed to obtain a logging licence on Crown lands, he was forced to cease operations during the 60s (Si Missinaïbi m'était contée…Tome 1, 1986 : 82).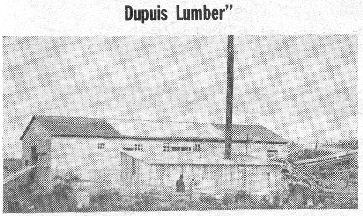 Dupuis sawmill in Mattice.
(picture donated by the Le Nord newspaper)

Charpentier sawmill: Fred Charpentier owned and operated a sawmill at Lac Sainte.Thérèse during the 1930s. He produced lumber for settlers.
Saulnier sawmill: during the 1930s, Félix Saulnier owned and operated a portable sawmill seven miles south-west of Val Côté.

Bolduc sawmill at French Lake (1934-1946): The Bolduc family (Archelas the father and his sons Napoléon, Désiré, Edmond, Herménégylde, Gustave and Alfred) owned and operated a mill north of Ryland and south of Noé Fontaine's mill. The family harvested timber on its lands and got more from settlers. The lumber produced by the mill was sold notably to Guénette of Kapuskasing and southern buyers. The sawmill was reportedly sold to Mr. Boisvert and Mr. Croteau of Abitibi in around 1944. Mr. Évariste Proulx worked several months in the Bolduc mill, probably in 1935, at the age of 18. "I worked the night shift. The mill worked 24 hours a day and we only took ten-minute breaks every six hours to grease up. We had to 'clear the slip' during 12 hours, rain or shine" (Excerpt from an interview by the Société historique, 1986).


Bolduc sawmill
Left to right: Gustave and Edmond Bolduc (picture donated by Mrs. Aline Bolduc)

Haman and Canada Forwarding sawmills at Carey Lake (1935-1948): during the 1930s, Adélard Haman purchased the Doucet sawmill in Jogues and operated it at the same location for some time, with the help of family members. In 1938, Mr. Haman was granted logging rights in the Stoddart Township and moved the mill to Carey Lake. In the mid-40s, he sold the mill to American company Canada Forwarding, which operated the mill until 1948.
Forcier sawmill (1945,1947): in the mid-1940s Clément Forcier built a sawmill at Lac Sainte.Thérèse to supply settlers with lumber. These settlers brought timber to the mill to get it sawed. A tractor engine activated the mill, which only functioned during the spring.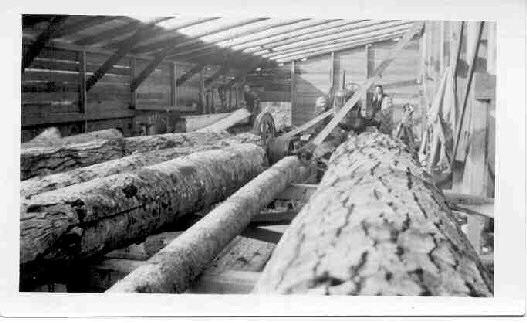 Forcier sawmill at Lac Sainte.Thérèse
Notice in the background the tractor which runs the mill
(picture donated by Mrs. Jeanne Forcier)
Létourneau sawmill at Kabina River (1945-1948): Willie Létourneau purchased this sawmill from Noé Fontaine in 1945. The Transcontinental Timber company sent wood to the mill on the Kabina River. In 1948, Mr. Létourneau sold the Kabina River sawmill to J. D. Levesque, who had already bought a planer owned by Willie's brother Raoul.
Odilon Payeur and Joseph Vaillancourt sawmill in Coppell (1946-1952): shortly after Odilon Payeur installed a sawmill in Coppell in 1946, Joseph Vaillancourt joined him from the V. & P. company. The company hired dozens of workers during its operation.
Boisvert sawmill at Forde Lake (1948-1949): Aristide and Camille Boisvert operated a sawmill during one winter near Forde Lake. It is speculated that the Boisverts would have purchased the Bolduc mill and moved it to this location.
Timber Product sawmill (1949-1955): a Montréal businessman named Alex Bruun owned this sawmill located near the entrance to the road leading to the Henry Selin Forest Products mill.
Lallier sawmill (1950-1952): in the early 1950s, Fred Lallier operated a sawmill near the intersection of Highway 11 and the road leading to Hornepayne (Palmquist), sawing for the Marathon Paper Mills company.
Henri-Louis Gosselin sawmills (1950-1957): Henri-Louis Gosselin operated a sawmill for the Marathon Paper Mills company at Rabbit Lake's principal camp. Mr. Gosselin moved the mill to Elof Christianson's logging lands, north of Mattice, in 1952. Mr. Gosselin employed a dozen workers and was paid by Elof Christianson's company, Spruce Land Forest Products, for each thousand feet of wood he sawed, the product of which was sold to southern wholesalers. Mr. Gosselin took his mill apart in 1956 or 1957; Mr. Christianson then installed his own sawmill, which functioned for a few years before burning to the ground. It was never rebuilt. Mr. Christianson was mainly a pulpwood contractor for the Spruce Falls Power and Paper Company.
Spruce Dale Lumber sawmill in Mattice (1971-1974): Elof Christianson succumbed to a heart attack in 1970 while he was on a train to Toronto. He was on his way to Sweden to check out equipment for a new sawmill in Mattice. The sawmill was nevertheless installed west of the Missinaïbi River bridge by his sons Ted and Don and their cousin Allan Edlund. The Spruce Dale Lumber sawmill functioned from 1971 to 1974, when it was sold to Levesque Lumber of Hearst, along with its logging lands.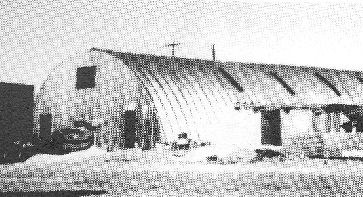 Spruce Dale Lumber sawmill in Mattice.
(picture donated by the Mattice-Val Côté municipality)

Newaygo sawmill in Mead (1973-1984): Newaygo Timber, an American company, established a sawmill in Mead in 1973 for an estimated cost of

$5 million. The mill was operational until 1984.